Protected price: Book and SAVE NOW! Offer
Protected price: Book and SAVE NOW! Hotel in Benidorm
Protected price: Book and SAVE NOW!
BEST PRICE GUARANTEE

Being the first has always had many advantages and booking with us is no different.

At Magic we have two policies that benefit and support forward-thinking customers, price protection and best price guarantee.

Price Protected:
Our general rate* for the launch always implies the lowest price, that is to say it has a discount applied to the rate at the launch and according to the demand and proximity to the date of stay the price can be increased up to 30% above the rate, depending on the date of stay.

Make your reservation now and take advantage of incredible discounts, don't wait any longer!

Best Price Guarantee:
On the official website you will always find the best price guaranteed and in addition, by subscribing to our newsletter you will become part of the Magic Friends Club and enjoy exclusive advantages on our website.
We will always offer the best guaranteed price on our official website, so if you find a better offer in the same conditions (date, rate, regime, room) we will match the price.

Become part of the Magic Amigos network:
Unique benefits in all Magic Costa Blanca accommodations when booking from the official website.
✔ 4% discount on your reservation
✔ Welcome Gift
✔ Exclusive Offers
✔ 10% discount on services and restaurants
✔ Annual meetings for Magic Amigos

🎁 How to become a member of Magic Amigos? Becoming a member of our club is very simple, you just have to subscribe to the newsletter and you will become part of Magic.




Cancellation policy:
When you make a reservation from the official website, the cancellation is free of charge up to 14 days before the date of your stay and you can also contract the Free of charge rate which allows cancellation up to 72 hours before arrival at the resort.

Are you looking for a complete experience? Book your holiday with the ALL-INCLUSIVE CULTURE and you will enjoy all this and more:

🏹 Excursion Pack valued at more than 200 euros, free for stays of 7 nights or more.

🍴 The best gastronomy and all your meals in our buffet restaurants.

👙 Do you need to refresh yourself? You can do it whenever you want with our free unlimited drinks service, under self-service availability in restaurants and bars.

🧊 Daily replacement of the minibar.

🥨You can also snack between meals with the snacks available in bars.

Don't wait for the price to rise, book your family holidays and save money.
*The protected price is applied exclusively to the general rate price.
Valid offer from 27/02/2021 to 31/12/2021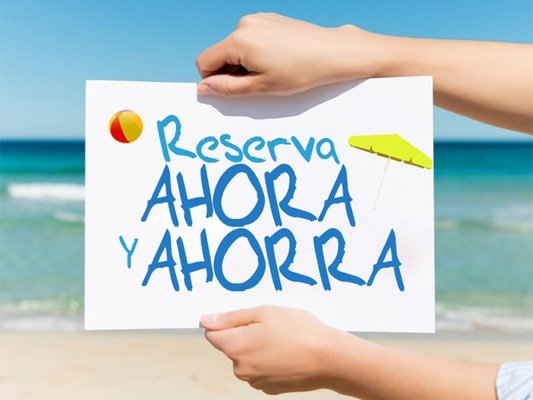 Some good reasons to book with us
BEST PRICE ONLINE GUARANTEED
Free transfer from Alicante airport or Alicante train station (for more than 5 nights)
You'll find the last rooms here
Exclusive rooms only on our official website
Join the Magic Amigos club and get a 4% discount